We have
enough
"Youth"...

How about a fountain of "Smart"?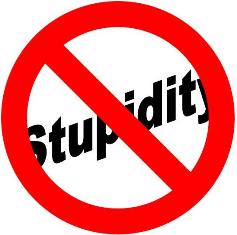 (yes the slash really does go that way!)
Be who you are and say what you feel,

because people that matter don't mind ...

and people that mind don't matter!
Quotations previously on my Home Page are now here. --- Enjoy!
---
---
Home Page...(You Are Here...)
The Lessons: Wide-ranging commentaries.
Alan's "Observations": Like Murphy's Laws, but mine.
Letters To..: Open Letters to "Leaders."
Woodshop: My Woodturning Gift Shop.
About Me: History, background...
Links: Friends, relatives, good places...
"Mydeas": Crazy Ideas? ...Maybe? ...Maybe not.
Troll Food: Got a troll on your favorite blog site? Respond with a snarky cartoon ... Copy link, paste...


The "Why's" Guy: Questions I love to ask... and not Rhetorical, either!
No, It's Not!: Web lies you've believed... but shouldn't have.
Books => Movies: Books that should be movies.
Critical Thinking: What is it; where it isn't; when did it die in the US?
No Shit!: Could some things be any more obvious?
WTF?!: You-gotta-be-kidding-me stuff.
News: Recent personal happenings...
In Memoriam: Friends, relatives, pets, other ...
Gift Registry: Wish Lists and Gift Suggestions ... (for birthdays, etc.) for me. --- hint, hint...
---
Here's what Hillary, Trump, Obama, the mainscream media,

Congress and most bloggers are missing:

"... the whole of economics can be reduced to a single lesson,
and that lesson can be reduced to a single sentence:

"The art of economics consists in looking not merely
at the immediate but at the longer effects of any act or policy;

it consists in tracing the consequences of that policy
not merely for one group but for all groups."

(--- From "

Economics in One Lesson

"

by Henry Hazlitt

)
My Bariatric Memoir! ( .pdf)
And here's a link to the
Bariatric Guide&nbsp
, from
the Rex Team in Raleigh. (.pdf)
Bariatric Surgery:
Easy Way Out?
---

Thailand, Philippines,
California, Illinois,
Orlando, FL, Austin, TX,
San Bernardino, CA,
Paris, France, Garland, TX,
Baltimore, MD, Ferguson, MO,
North Korea, Syria,
Venezuela, Sudan, Iraq,
Iran, Russia, Yemen
and ISIS/ISIL, too!

"Failed Government"
and "Failed Protests"
Memorial Quotation:

"Violence is an admission that one's ideas and goals cannot prevail on their own merits."


--- Edward M. Kennedy
---